T'was 24 days before Christmas and John and Sue were wondering how they could bring some festive cheer to the good people of Droylsdon. They thought and they pondered and alighted on the idea to invite Santa to pop by, and to try raise money for Kidscan as well. 
They transformed their garden into a spectacular winter wonderland, filled with magical North Pole creatures and bright, twinkly lights. But they knew just how busy Santa is at this time of year, so they crossed their fingers and hoped… 
And just ahead of the snow, on 3rd December Santa appeared! 
He took up residence in the sparkling grotto that the incredible John and Sue had created, and as word spread, the townsfolk brought their children to meet. 
Well, John and Sue had asked for a small donation from visitors that would then be given to Kidscan. But the people were so delighted to see such a spectacle, to meet Santa and to hear of John and Sue's hard work and kindness, the donations grew and grew.  
Santa was also having so much fun and agreed to stay on for a couple more days to meet more and more children and listen to their Christmas wishes. Local businesses saw the joy on people's faces and donated treats. Plus, visitors to the Grotto threw a little extra into their buckets.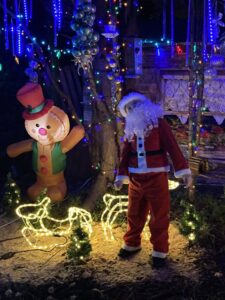 And then, after 17 nights, Santa had to bid farewell to the kind people of Droylsdon and return to his workshop in the North Pole, to get ready for Christmas Eve. Santa had planned to meet around 100 children, but by the end he'd seen 450, all in a safe, virus free environment. And John and Sue, and the generous townsfolk, had raised an amazing, an incredible £2632.14 !! 
Kidscan Elf (and Community Fundraising Manager) Alison England, picks up the story:  
"So John Charlesworth and Sue Farkas wanted to create a back garden grotto for their grandchildren this Christmas but then thought about all the other children in Droylsdon who won't have had a chance to see Father Christmas either this Christmas, due to the restriction. So, they popped their idea on to the facebook group for Droylsdon residents, saying they'd like to offer this to residents and raise something for charity.  
That's when I got in touch with them, to ask which charity they were interested in donating to and told them all about Kidscan. John said he can't think of anyone better to raise money for after the experience of losing family to cancer. 
With that said I set about contacting businesses in the area such as Iceland, Tesco, Quality Save and the local corner shops all of whom were kind enough to donate selection boxes and mince pies." 
One member of the community, Anthony Griffiths, donated over £400 worth of selection boxes in one go. 
"People have turned up to take these gifts away to wrap them as Sue couldn't wrap them all herself, then brought them back for the children.   
John and Sue turned their entire front and back gardens into the most magical Christmas Grotto. People in the local community donated lights, Christmas trees, decorations and others made sweet cones and reindeer food to be sold at the Grotto to also raise funds. 
They started taking bookings, so many people contacted them they were completely inundated with requests to see Father Christmas! 
Bearing in mind, both Sue and John work full time and hadn't had any time off during the day to set this up, and still they opened up their home from 3rd to 20th December during the evenings and over the weekends to get these children seen by Father Christmas. They did everything they could to ensure everyone was seen; they had a waiting list, a cancellation list. They thought they could see around 100 children but that figure rose to 450. 
They worked non-stop tirelessly to make sure they'd seen every child. For those that were in isolation from school and weren't able to make their appointment, they arranged video calls to the children at home, to chat with them. 
The feedback on facebook has been sensational, people have said that it was the most amazing Santa's Grotto they've ever been and it beats the likes of the big commercial events. 
One parent I spoke to was extremely emotional as her little boy has autism and Father Christmas went out of his way to discuss things with him that only that little boy would know. It completely blew the parents away and their little boy was delighted."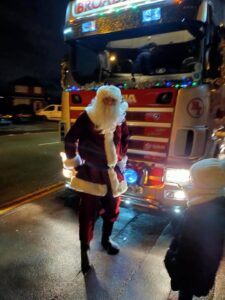 "Saturday 19th December was their penultimate night and Father Christmas was driven around Droylsden town centre in a massive truck by Mike Eyres. There were hundreds of people lining the streets but they made sure that every child got to see Santa, traffic was at a standstill. Again, they had their collection buckets out and people donated hundreds of pounds."  
Comments on social media show how much people enjoyed the experience: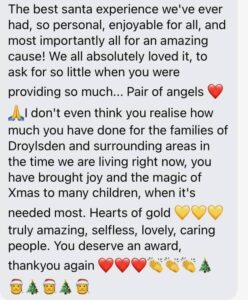 Dani said: "best Santa experience we've ever had, so personal, enjoyable for all and most importantly all for an amazing cause!… you have brought joy and the magic of Xmas to many children when its needed most. Hearts of gold truly amazing, selfless, lovely, caring people. You deserve an award"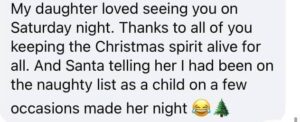 Kate said: "My daughter loved seeing you on Saturday night. Thanks to all of you keeping the spirit alive for all. And Santa telling her I had been on the naughty list as a child on a few occasions made her night" 
John and Sue's initial aim was to raise £1000, but in cash on and their online GoFundMe page, the current total is over £2630.
Alison again: "John is now absolutely overwhelmed and emotional with what they've managed to achieve over the last couple of weeks and raising so much money for Kidscan, they're blown away, as am I. 
People have really gone out of their way in this community which has warmed the hearts of everybody. Sue and John haven't had chance to go food shopping or buy presents for their own family so local people have made them dinners, teas then dropped them off at their home, full breakfasts at the weekend because people know they've not had the chance to eat.  So, there has been a massive community hive around all of this. So many people got involved and are overwhelmed by the generosity of what John and Sue have managed to do.  
They're such decent people, and are already planning the extravaganza that will be Xmas 2021! Already got lots of people within the community volunteering to step up and help." 
So, from all of us at Kidscan, we wish you a very merry Christmas. And for your kindness, support and making so many people smile, thank you John and Sue. And Santa of course. *wink* 
Share this article