Amy fell ill when she was diagnosed with leukaemia on November 13th 2018 aged just 5 years old. Amy's mum Faye tells us about their journey so far:
Amy had a cough in the late October with a temperature that wouldn't go down, it systematically got worse. We took her to A+E in Blackpool but they sent us home, said it might be a flu or a cold. I said to my friend who is a doctor, I've googled it and it says it could be leukaemia, but she laughed and said don't google things like that.
Then one night Amy was holding onto her chest and saying she had this leg pain then she started screaming, a terrifying sound. So I took her to A+E again but we were sent home.  Third time I took her, she has a temperature that wasn't going anywhere. They took a blood sample and they told me then and there.
Then it was all a rush, we were blue lighted to the children's hospital in Manchester, they told me to wait for my husband, but it didn't click for me. My husband Chris is a policeman, he's used to dealing with bad situations. When he got the call and was told they were waiting for him, he knew something was very wrong.
From that point on in November, Amy and I didn't leave hospital until 22nd December.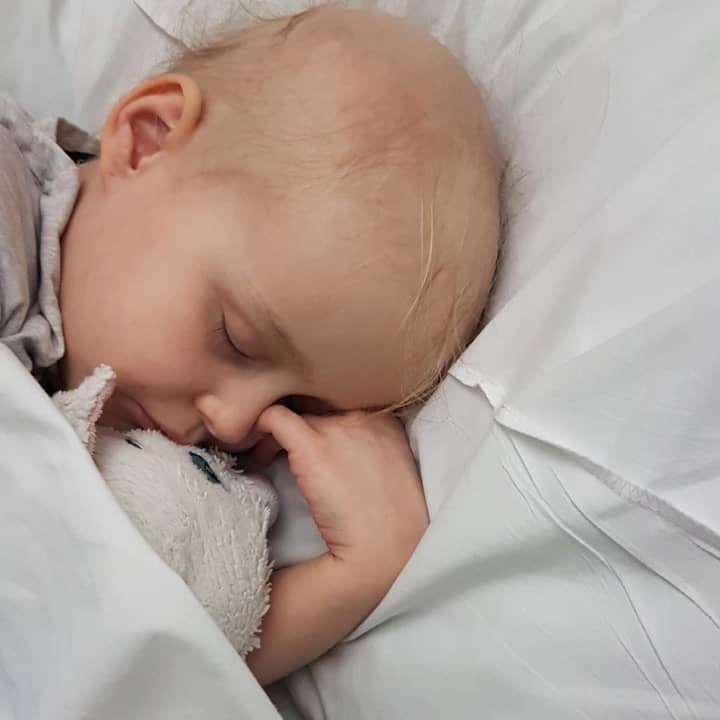 Amy had intense chemotherapy straight away. They'd seen she had a high number of cells under the microscope so she was started on a Regime B (a mild-high dose) and they kept her on that. We managed to get home a couple of days before Christmas for a few of days then we were back in. Amy caught ecoli, she was bordering on having sepsis and she had a stomach infection, so we spent all of January and February in hospital.
Losing her long blond hair was awful for her. It was starting to come out in handfuls and I couldn't part with her hair, it felt wrong to flush it down the toilet so I keep it in a heart shaped box. On the day I knew it would start shedding her teachers came in to help. One French-plaited it for me and cut it into a bob so when it did start shedding it was shorter. Some of the mums shave the kids hair when it gets to that point and it just makes it seem real, such a dramatic change of appearance. But once she recognised that the other kiddies on the ward looked the same, she adjusted.
Our Religion really helped us. When she was on intense chemo at the beginning I had to get the priest for her, to give her the sacrament. Amy was throwing her head back and ripping at her eyes. The priest came and gave her the blessing and we said you've got to accept the medicine is killing the cancer.
A lot of the children wouldn't take the medicines, and Amy went through that phase too. I had to explain to her that you have to take them or you'll go to heaven. She knows that intensity is awful but the medicine will make her feel better in the end. She asks me 'why me?'. 'Why did God pick me to have cancer?' I had to say to her like me with my epilepsy, and your other friends, some people are just unlucky and get poorly.
In July/Aug 2019 Amy started with hyperglycaemia, and she got that really badly. Now she's under the Endocrinology team, every morning she wakes up and feels weak, cold and without sugar in her she almost faints. This has been an after effect from the heavy chemo treatment. They're adjusting the dose now to alleviate the side effects and consultant says they will keep Amy on lower chemo to gauge what level she can tolerate. We don't want to risk her treatment being too low, so she will have to put up with some hyperglycemia symptoms as we have to make sure we're getting rid of the cancer cells. We're at the phase when we're trying to find what Amy can tolerate.
When Amy's blood sugar is low, she can't concentrate. This means she can't return fulltime to school, even though she's in the maintenance phase of chemo. Amy got poorly when she was in reception, she's in Year 2 now, but she hasn't learnt anything from that point on. She's still recognising the letters in the alphabet and learning her numbers. So we've been doing a fair bit of home schooling.
Before she got poorly she was just getting into gymnastics but now with her low blood sugars and chemo she can only watch dance, music and gym. Its difficult because all her best friends at school are gym friends, she says she's too slow and can't keep up with them.
Oh and swimming, she's a real water baby. When she was really bad in hospital, I've a picture of her in the physio pool where they only let one child in at a time. It is good for her legs and ever since she's loved the water. I can't get her out of the bath! She puts her snorkel mask on and swims in the bath, its probably soothing on her joints and makes her feel better.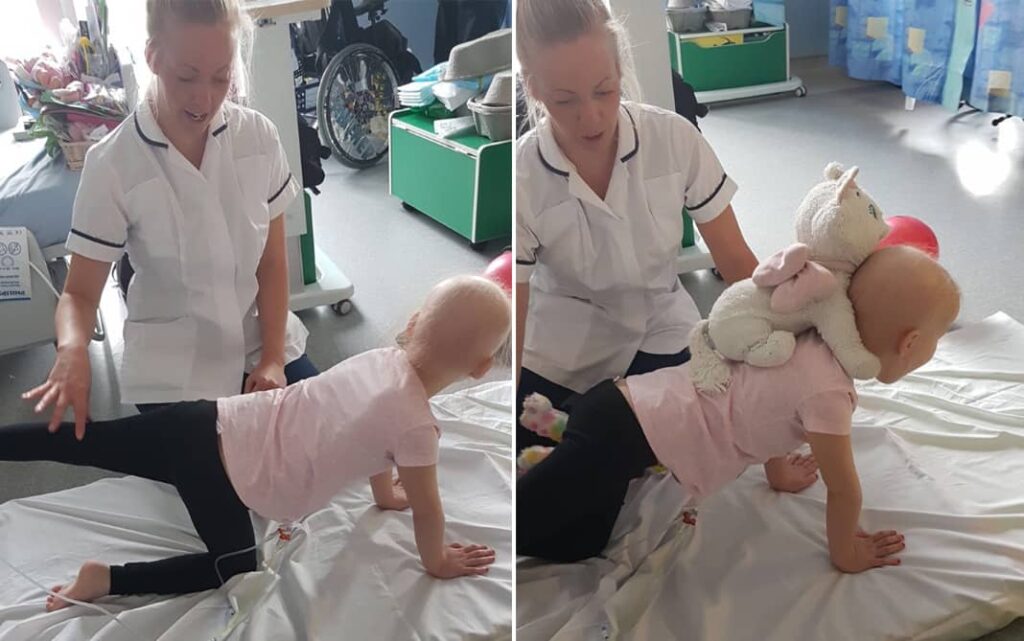 Amy has been left with aches and pains, slowly and surely she's building her strength up but she may be always left with a limp, skin sensitivity and cognitively, her brain she may be left a bit behind.
But she is a real live wire, like a comedian with an old soul, she does anything to make people laugh. On the ward she's like the nurse-sister on the ward and she'll sing, always dressing up, doing make up, being like an older sister or a mum.
Amy has a great personality; I'm just glad she's alive.
Share this article