Childhood Cancer Survivor, Isla opens innovative contactless window installation, allowing the general public to make Covid safe donations to children's cancer charity, from the streets of Bolton.
To help raise awareness of childhood cancer and money for Kidscan, Bolton based KeyGeni have installed the contactless, data-secure payment point in their front window on Knowsley Street, Bolton.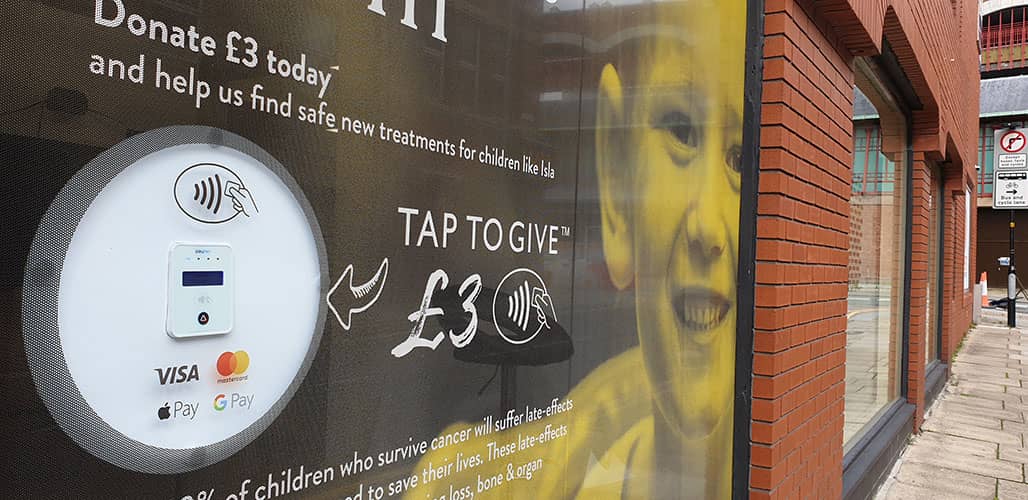 The installation will be live throughout September, allowing passers-by to donate by simply tapping their card against the window to give £3, day or night. The hardware, supplied by Goodbox, enables donations to be safely processed in less than a second for the charity and encrypts the donor's information at source.
Childhood Cancer Survivor Isla (now 7), who was diagnosed with a type of Kidney cancer at the age of 5 opened the window with her mum Jill.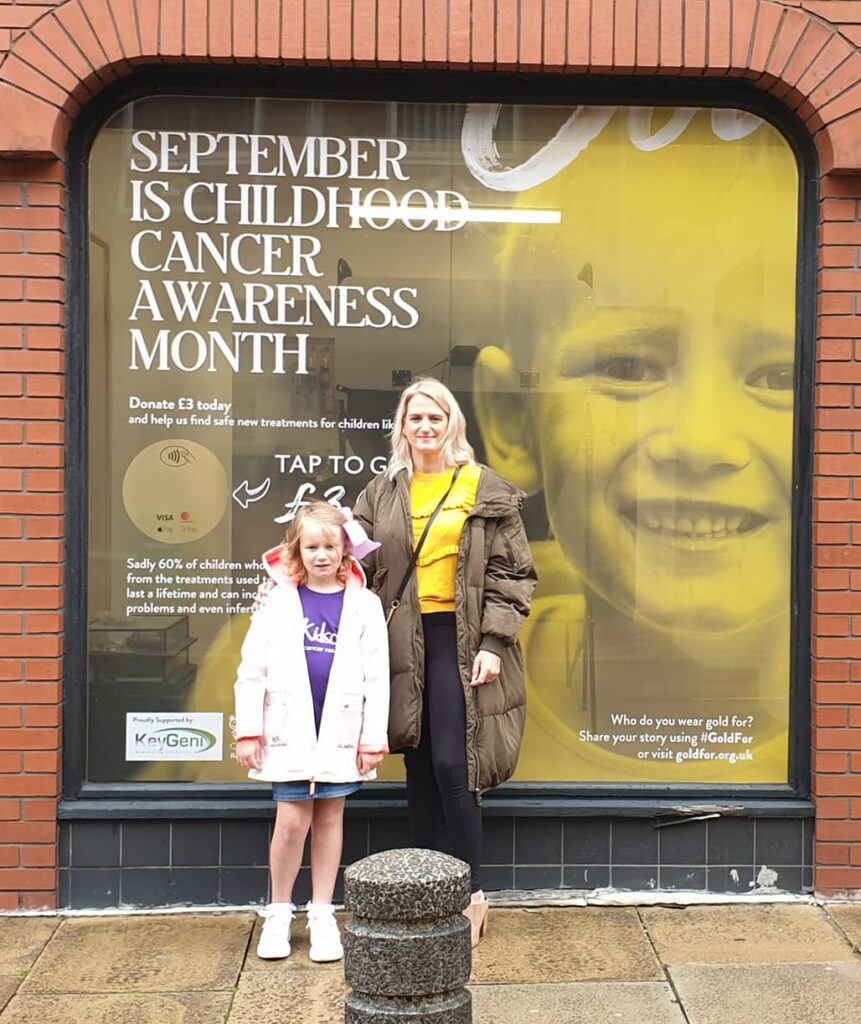 The window is part of Kidscan's #GoldFor Campaign to mark Childhood Cancer Awareness Month. Isla, The Kidscan ambassador who has raised over £8,000 for the charity is hoping that by raising awareness this September so she can help children who are going through cancer.  "I met children in the hospital who had cancer too. I am a Kidscan Ambassador and wear Gold so I can help them."
Jill Reeve's, Isla's mum:  "Thankfully Isla survived the gruelling treatments and is now cancer free, unfortunately, we know lots that haven't. I'm so proud that Isla is using her story to raise awareness and money to find safer treatments."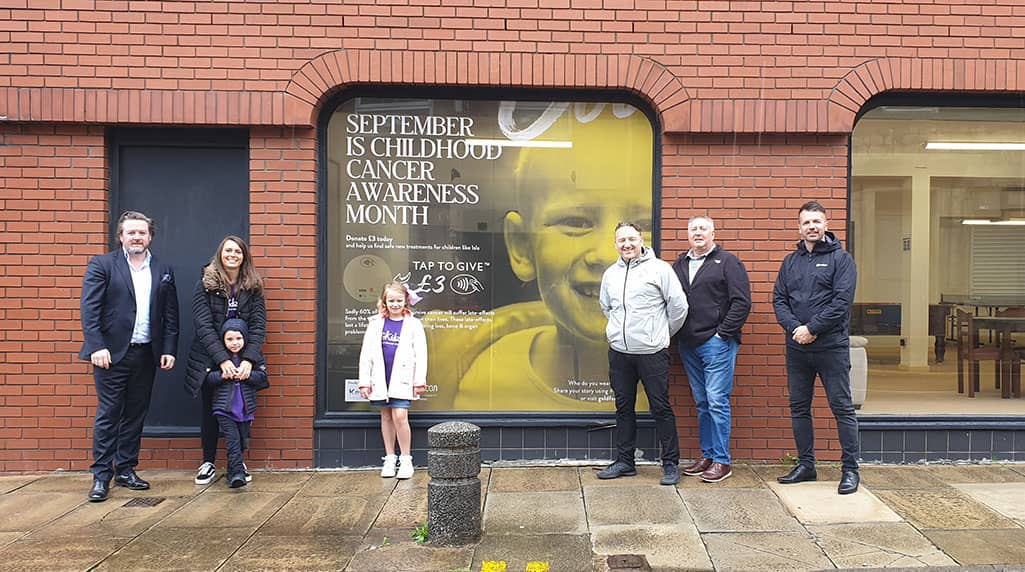 Bethany Hinchliffe, Corporate Fundraising Manager at Kidscan:  "We're very excited to be able trial new technologies, especially during a time when people are less able to fundraise and support charities in the usual way because of concerns around Covid19. We hope that by providing new ways to donate, people can continue to support us whilst feeling reassured that they can do so safety.
Thanks to KeyGeni who have sponsored the installation and donation box, every donation we receive will go directly to finding safe new treatments for children diagnosed with cancer. Just £3 can fund a range of equipment such as petri dishes giving researchers the tools they need to make new discoveries."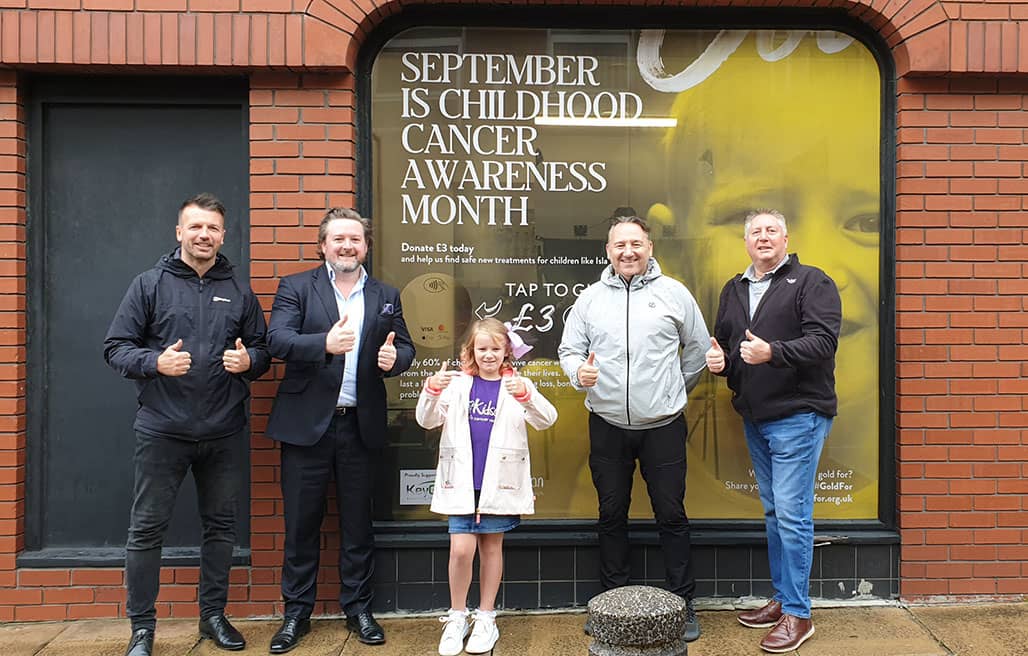 Daniel Ashton, Keygeni Director: "When we created KeyGeni back in 2019 one of the first items on our charter was Corporate Social Responsibility and how we could provide support to the local community in Bolton through charities. We have supported a number of charitable causes in the past and have been involved with Kidscan Children's Cancer research for a number of years.
Charities, such as Kidscan, have been particularly hard hit through, the COVID-19 Pandemic and we recognised that, given the location of our offices, in the heart of Bolton, we had the opportunity, to install a contactless, charitable giving wall, which can be used by the Bolton community to make donations. We would encourage anyone who might be in the Bolton city centre to come and donate, through the contactless window. Together, we can make a difference"  
Share this article