Kidscan's Community Fundraising Manager, Alison England, begins by introducing us to her first Community Champion for 2021, Josie Lloyd-Wilson. 
"Josie is one incredible woman and has been a huge supporter of Kidscan since the tragic loss of her husband Robbie to bowel cancer, in 2016. Josie was pregnant, due to give birth in 8 weeks to their first child, when Robbie died" 
Over the past four years, Josie has raised £11,000 for Kidscan Childhood Cancer Research.  
"And what makes Josie even more incredible is that she has since gone on to have Robbie's second child, using a frozen embryo, in Sept 2019. And Josie is still fundraising! She has recently raised £1500 by selling off old baby clothes and donating the proceeds to Kidscan." 
We spoke to Josie from her home in Surrey to find out more about her motivation. 
Kidscan: When Robbie first became ill, how important was it for you both that you continued with life plans, including your wedding? 
There was no question in my mind about the wedding, I was going to be his wife even if we had to marry in hospital (which our vicar had to get the arrangements ready for just in case he deteriorated quickly.) 
K: People whose loved ones are living with cancer talk about 'making memories', did you both consciously try do that? 
I don't think we consciously did that. Because he couldn't work during treatment and my work was quite flexible, we had the opportunity to really make the most of our time together in between chemo rounds. We would go for walks locally with our dog, visit National Trusts and go on little short breaks occasionally if there was a gap in treatments. I think the situation gave us a wonderful perspective not to sweat the small stuff, we were just so joyful together and still planned and dreamed about the future right up to his last moments. One of the most powerful things he said to me was that he didn't feel like he had lost the battle to cancer, he felt like he had won because he was so purely happy we found eachother. 
K: How did you arrive at the decision to prepare to start a family and then as Robbie became more poorly, did your feelings about having children change? 
He had to have sperm frozen pre-chemo and we had always talked about having 2 children one day. We started the IVF when his oncologist said the treatment was going well – he said "we're winning". When the next scan showed the opposite and gave such a poor prognosis, I was so invested and had no doubt about going ahead with it. 
K: How did you feel when they were both born? 
They were very long labours (30hs and 47hrs!) so the first thing was relief! I remember the huge rush of emotion. I saw immediately that Laurie had Robbie's eyes. The first cries were heartbreaking but I had the midwives play a CD of Robbie singing so his would be the first voice they heard.  Laurence (Laurie) is now 3 and his sister Constance (Connie) is a year old.  
K: When Laurie and Connie are old enough, have you already prepared how you will explain to them about their Dad and his illness?  
I spoke to a child bereavement charity – it is difficult because they never met their father so it's not the same kind of loss. I also researched a lot and spoke to friends who have adopted children very young. The consensus was to be honest from day 1 answering any questions and not to sugar coat it with confusing spiritual concepts and romantic terminology. The first time Laurie asked where his daddy was it broke my heart but I'm now used to saying that his daddy had cancer in his tummy and it caused damage that the doctors couldn't fix so he died and can't come back. We have several books for young children which gently introduce the concept of death. I've made folders and boxes with photos and special items that were Robbie's as well as stories written by his friends about what kind of a person he was, and the kids can look at them whenever they want. 
K: Why did you decide to fundraise for charity when most people would think you've got your hands full enough! and then why did you choose to support Kidscan? 
I think a lot of people who experience loss have a need to do something positive in their memory in order to make sense of it. Robbie had so many charity direct debits to various animal and children's charities (and he refused to unsubscribe to them even when he couldn't work and had little income – he said they still needed the money more that he did). He was such a selfless and generous man. Throughout his gruelling treatment, he was always primarily concerned about me and still thinking of others who were worse off than him, and he often remarked when he was really suffering with the chemo side effects "how can kids have to go through this?". That really stuck with me and so I chose Kidscan because they don't just research the most effective treatments, but they try to look for ones that are kinder for children and leave less short- and long-term side effects. 
K: How do you come up with ideas for fundraising? 
The first year was an obvious choice, Robbie was a singer songwriter of beautiful music under the name Autumn Chorus and I wanted to celebrate his music and give his fans who wouldn't have been at the funeral a chance to come and remember him. I organised lots of bands to play, including his own band, and I sung the last song he wrote. It was very emotional but an amazing evening – I was quite heavily pregnant!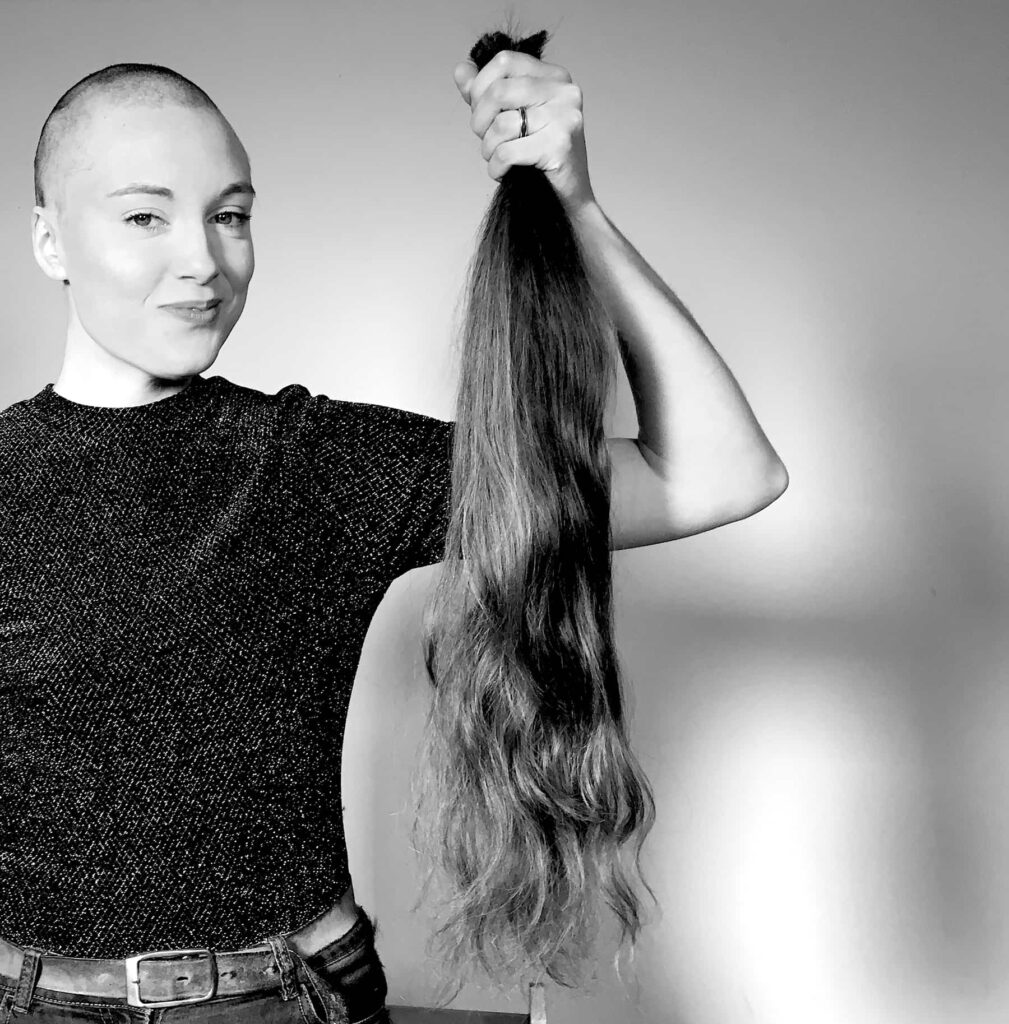 Robbie was quite thin on top, bless him, and I often affectionately called him "Baldilocks". It seemed a great tribute to do a sponsored head shave – I had very long hair right down to my hips so it was also an opportunity to donate that hair to The Little Princess Trust who make wigs for children who lose their hair through illness. The shave was filmed so I then had the footage made into a music video and released a charity single 'The Phoenix And The Olive Tree' under my artist name Sephine Llo – the song I actually wrote for Robbie as a wedding present, it was about being reborn and the pain of the past being erased, and so the meaning evolved for me after his death with the lyrics being more poignantly about loss and finding myself as a mother. 
With the covid pandemic, I couldn't organise anything big for fundraising in 2020, and didn't want to be nagging friends for donations when so many are struggling. So, I decided to quietly sell all of the old baby paraphernalia – outgrown clothes, toys, car-seats, moses baskets etc on facebook marketplace and ebay. Most of what we had was kindly given to us by friends as hand-me-downs, so there was no way I would have wanted to profit from it. I was really pleased that lots of clothes bundles someone bought ended up going to an orphanage in Africa, so benefiting other children who have lost parents. 
I've not decided what to do this year yet… watch this space! 
K: Do you hope to continue supporting charities like Kidscan and will you get the children involved in the future too? 
Absolutely! Every year I will do something for Kidscan, and hopefully the children will want to get involved later on. 
I think so far we've raised around £11k (tribute concert in 2017, head shave in 2018, charity single in 2019 and selling baby stuff in 2020), now I just need to think of something for 2021!" 
Alison speaks for all of us at Kidscan when she says: "We are overwhelmed with Josie's strength and her commitment to our charity and we are truly grateful to have her support." 
Share this article