Alison England, our Community Fundraising Manager, brings you our Kidscan Community Fundraising Champions update for September: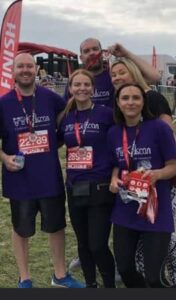 Bouncing for Charity
The fabulous people from BNI Airport City were out again raising money for Kidscan. This time, they took on the Inflatable 5K challenge – climbing and bouncing over and under lots of inflatables, having lots of fun as they went! Kaila, Matt and Becky plus a few friends they roped in, smashed it and raised over £1000! Well done gang, you are all troopers!  
GNR 21 
Well done as well to all our runners who took part in the GNR 21! After this event was cancelled and dates moved several times, we really are grateful for those who continued to support Kidscan and run such an iconic race! Thank you!  
Great Manchester Run 10k Ian Piercy smashed it as we knew he would raising almost £300 for Kidscan Children's Cancer Research. 
It really is run-season atm and we cheered on Kidscan runners at the Manchester 10k and half marathon. Fantastic efforts and even though all their sponsorship money isn't in yet, they've raised well over £2000. 
Emma Fairy Garden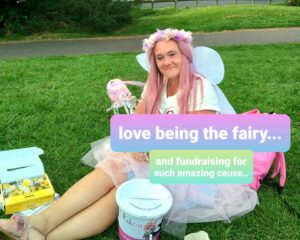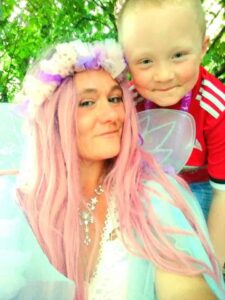 Emma Powers (Queen Fairy!) is a fantastic lady who, along with her son Alfie, have created a hidden fairy garden for their community in Droylsden. She opens this up to all so children can come along and share adventures together, reading stories and painting their nails.
Emma also wanted to support Kidscan during Childhood Cancer Awareness Month, so she kindly asked parents for donations throughout September! The families who attend this magical garden have said its incredible for their children and that Emma gives up her own time to run this special place for the local community.
Emma is now also planning fun activities to raise money at Halloween and Christmas and we are so grateful to her and Alfie for all their wonderful support!  
Rocking out for Charity 
What a night!! Our London marathon runner Kelvin hosted a fabulous evening of entertainment in memory of his father and celebrating his 10th year supporting Kidscan!! The variety of performers was fantastic including a Celina Dion impersonator, 80's singing sensation Shane Nolan's band and our very own Kelvin along with many other incredible performers! Kelvin dedicated the night to our gorgeous little ambassador Amy, who is currently having treatment after a relapse. Everyone was extremely generous, raising a huge £1450! It was such a great night and so good to actually be out and entertained by live music! Thank you, Kelvin, for all your hard work and we can't wait for more next year!
Ultimate Peak District Challenge
And last but not least, the team at Propcall took on the Ultimate Peak District challenge to highlight childhood cancer awareness month and to raise vital funds too. And they did just that! The team of six, including Aaron McWilliams, raised £330 together! Massive well done and thank you for your fantastic support!! 
If you're interested in holding a charity event, taking on a fundraising bounce or trek, do get in touch with our Community Fundraising Manager Alison@Kidscan.org.uk
Share this article