On 4th September 2021, Howard Spargo will take on the infamous LEJOG, or Land's End to John O'Groats cycle to raise money for Kidscan.
He aims to complete the 980-mile journey in 9 days, riding an average of 109 miles a day. His total ascent will be over 50,000ft – nearly twice the height of Everest and he'll burn up more extra calories each day than if he were running a marathon. 
Why is he doing this and how, you may ask? Well we did ask, and Howard explained how he heard about Kidscan's research into childhood cancers and decided to take on this challenge. 
"I came across Kidscan via some friends at the St James's Club and was lucky enough to be invited to Kidscan's celebration of Her Majesty's Lord Lieutenant of Greater Manchester Sir Warren being made 'Principal Patron' of the charity. At this I learned more about the pioneering work that was being undertaken just up the road from me and also of the significant impact it was having on the life outcomes of children with the misfortune to be diagnosed with cancer. The fact that Kidscan was local, made such significant impacts on families and would likely see great benefit from my fundraising made me think of them straight away when considering all the options. 
It's been 10 years since I took on a big challenge and in 2010 it was a marathon. I did most of the preparation for the marathon but fell short in what I felt I should have done. The idea of cycling long distances was always a dream; I'd talk to friends about cycling from Norwich to London, but never did. I guess that the Lands End to John O'Groats route was always something there as a child and it seemed like something just out of reach. After reading about some of the support available and how normalised completing the challenge had come for some, I thought it would be great to give it a go.  
People tend to react positively to his plan but are surprised at the amount of preparation it entails: 
Generally they're pretty impressed with the distance that I'll be taking on. To many people the idea of cycling 100 miles is alien to them, let alone doing it all over again for another 8 days.  The big problem with doing a challenge like this is fatigue. Given a long day and a fair tailwind many people can manage a 100 mile ride that didn't think they could. However, afterwards their bodies would suffer immensely, making it all the harder to repeat again afterwards. I think people are also bowled over by the preparation I've been putting in. In truth, I could have got around the course after 6 months of training, but the 12 months of sacrifice, to me, is what makes this all the more worthy of sponsorship. I also want to enjoy the ride.  
Howard is training in a calculated and focused way for the physical aspect of the challenge: 
"With 12 months to go I engaged a coach to help in holding me to account on my training and also to make sure I train in the right way. He's one of these crazy cyclists who thinks nothing of cycling off road for 4 days over a 550-mile course in the driving rain! He's been truly excellent in teaching me about physiology and learning how my body works. I've learnt that I'm a strong sprinter, need to lose a couple of stone if I want to be good on the hills, have good recovery and can hold very consistent efforts. I've also learned about fuelling and am fastidious in my food preparation, making sure I'm taking on 20g of carbohydrate every 20 minutes. The last thing you want to do on a long ride is hit 'the wall'. Fortunately, through good planning, I've not done that yet.  
Much of my training over winter was in building up my endurance base. That meant long hours in the wet and cold. As I get nearer to the event we'll be picking up the pace to target the higher power and intense efforts to make sure I can get up the hills easily and recover very quickly.  
With a busy lifestyle it's been hard to fit in the training. I've had to learn to be an early bird and get my rides in before work.  I'll often be out at 6 to get a few hours in.  On average over the year, I've cycled 5 days a week (apparently a good plan has rest days too!) covering about 170 miles a week. That will increase as we get closer, and I'll likely have covered over 10,000 miles by the time I'm done over the 12 months." 
A task such as the Lands End to John O'Groats cycle also demands an incredible mental effort. Howard feels all his hard work and preparation has equipped him well: 
I approached this challenge differently to some. Instead of challenging myself to just complete it I have challenged myself to become a cyclist capable of completing it without problems. By the time I get to Lands End I shouldn't be in fear like many will be. I'll be looking forward to it and know that the 12 months of sacrifice will have been worth it. There will no doubt be some doubts and fears each morning as I set out with fatigue in my legs but by now, I'm feeling confident.  
The real challenges for me have been finding the time to do rides (including spending entire weekends either riding or good for nothing afterwards), going to events and dinners unable to have a drink, and risking my marriage by obsessing about bicycles!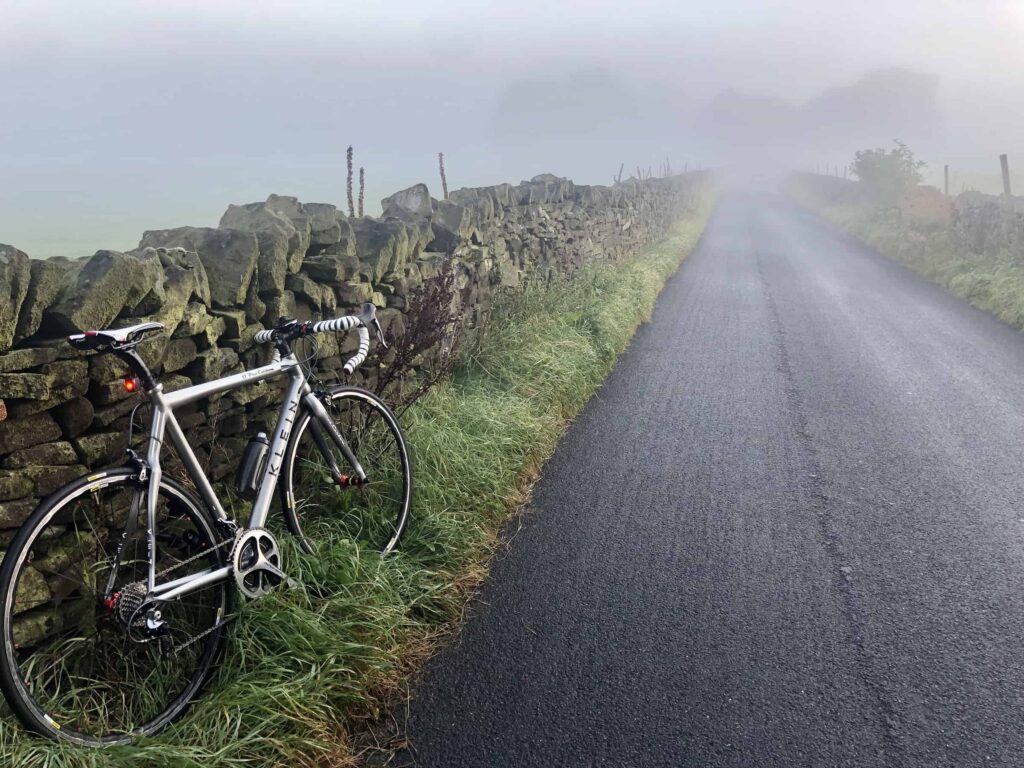 On this journey leading up to the challenge, Howard is also gaining more unexpected insights: 
When you spend 7+ hours on a bike each day it's really important to eat properly. When heading out alone for a day you can't always stop for food. I also need to have food that my stomach will tolerate with all the other things going on in my body. It's not possible to just survive on energy gels for a day. I've taken to baking rice cakes (a bundle of freshly cooked rice with extra bits in) to take out with me. Some days my pockets are bursting with food. I also have a top-tube bag which I fill with food, so I keep eating every 20 minutes. It makes life a lot easier.  
The challenge has been expensive in many ways, but I hadn't expected the additional cost of replacement tyres, chains, cassettes, chainrings and bar tape that all wear out faster than you'd imagine.  
Due to lockdowns I missed seeing my Dad for over a year as he lives in Ibiza. In July 2021 we booked flights to go visit. We took our laptops with us, but I also insisted on the bike. So, our break became a hot weather training camp for 2 weeks. If you've never tried putting a bike bag in a car, I can assure you they don't fit! Minibuses and busses were our solution in the end. 
As the date of his epic challenge nears, Howard is keen to spread the word and also to gather sponsorship: 
"Like most of you I had the benefit of being born healthy; the greatest start in life we can have and yet one we easily take for granted. For many children they are born with a fight yet to be started but one that will affect them for the rest of their lives.  
Children born with childhood cancer have to suffer the brutal reality of chemotherapy and how it ravishes their growing bodies. Chemotherapy usually affects the fast growing cells in our bodies such as hair and stomach cells, meaning that adult patients often lose hair and suffer intestinal problems. Just imagine the effect on a child's body when almost all of their cells are fast growing. The reality is that chemotherapy for a child can mean organ loss, brain damage, nerve damage, infertility… and the list goes on. Ultimately it means a future they didn't even get a chance to plan, set out for them.
Kidscan are one of the UK's only charities dedicated to solely funding children's cancer research. They are working to improve current treatments for children with cancer to eliminate the side effects 
They are developing new targeted treatments that defeat the cancer and save healthy cells… and so they need all the money they can get to make huge difference to the whole lives of children with Cancer. 
Thank you if you do choose to sponsor me. I will be extremely grateful for it but most of all I will be extremely happy that between us we can do our bit to give children with cancer a better start to their lives."  
You can show your support and sponsor Howard here: https://www.justgiving.com/fundraising/howard-spargo  
Share this article