We spoke to Kidscan's patient ambassador Charlotte about turning 18 during lockdown last year, how she uses humour to explain to people why she is physically disabled, why she thinks more money needs to be invested in sick children and how she is studying in hope she can use her experience to help others. 
Charlotte was diagnosed with Acute Myeloid Leukaemia (AML) at the age of 11. Within a week, doctors discovered her's was a rare and aggressive sub-type requiring urgent chemotherapy and bone marrow transplant.  
Treatment side effects plus a reduced immune system meant Charlotte caught a dangerous infection, needing a dose of steroids more usually given to a fully grown adult.  
Charlotte is now cancer free but treatments used to save her life have left her with life-altering late effects, due to lasting damage caused to her growing, healthy cells.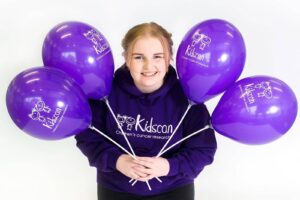 Turning 18 last year: 
"My 18th birthday was meant to be a charity night for Kidscan and the Children's Hospital with 200 people all dressed up in a hotel spending a lot of money on the auction, raffle and tombola that was going to be there. And then that turned into afternoon tea in my back garden, social distancing away from my own family. It was different! 
My birthday is at the end of April, so we'd only really just got into lockdown in March. It was very last minute when I had to cancel the party, so it was a bit of a downer, we had all this planned and now it can't go ahead. So hopefully next year. Like I said, we had afternoon tea in the back garden, with just my Mum, my Dad, my brother and my grandparents all social distancing because I was staying with my grandparents. All the extremely vulnerable people were locked in one household so the others could go to work and not worry about bringing anything home.  
In terms of the other aspects of turning 18, the normal ones like going out for a drink with your friends, I can't really do that stuff anyway, so that wasn't the biggest change. My kidneys leak so I can't have alcohol otherwise I get severe muscle spasms and my kidneys shut down. And I don't tend to go out a lot because I feel bad keep trying to keep up with my friends. All my friends are really good and they don't care, but it's just a thing that me and a lot of my friends from the ward have, trying to keep up with kids our own age and do things that they do." 
Late effects:
Charlotte was only 11 and newly diagnosed when she learnt of the potential side effects and longer-term late effects of her treatment options. Now aged 19, these late effects include avascular necrosis and osteoporosis. Charlotte is also unable to have her own biological children, needing hormone replacement drugs to replicate puberty and help her grow. This daily medication is needed alongside continual pain relief which leads to problems concentrating when studying. 
"To my parents it was mentioned a little bit earlier, but to me it was within my first few weeks. I was diagnosed with leukaemia on Thursday 30th of January, by that Monday, they knew that I had AML. A week later, they knew the chromosomes had translocated which made mine much more aggressive and rarer and my consultant knew that I would need to have a bone marrow transplant. I wasn't going to have the normal route of treatment. At that point I was going through my first round of chemotherapy, I didn't do things by halves and I got every side effect under the sun. I had a rash they didn't know what it was and I ended up with mucormycosis of the liver lobe, which is basically a killer fungal infection on top of my lowered immune system from the chemo and the cancer as well.  
The mucormycosis was the first late–effects thing, because the medication I had to have the nurses constantly told me they'd never had to draw this much up for adults, let alone an 11-year-old girl. It was like 'Well, we've got two drug choices. We've got ambazone but the other one I'm not going to give you unless the ambazone doesn't work because its side effects are horrendous and you're a beautiful little girl and I'm not going to do that to you.' The ambazon is what actually causes my kidneys to leak, so the ambazons got side effects, and they're bad but they're not as bad as that one. So that was the first time I got spoken to about side or late-effects.  
The second time was with the bone marrow transplant, after I wasn't in remission from the first lot of chemotherapy. Rob, my consultant had spoken to my mum and dad and then brought me in to speak about it as well, and the biggest side effect from it is that I wouldn't be able to have kids, and that I would be on medication for the rest of my life. I was eleven.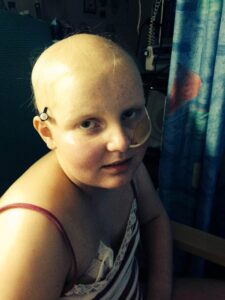 My Dad took it harder than I did. My Mum took the first stuff quite hard about me being diagnosed, my dad was the strong one at that point. I was like, nah its chill, its just a bit of leukaemia, I'm fine. And then when we had the conversation about me not being in remission and needing the transplant, that shook my dad a lot, he was like, 'what do you mean, you can't have kids?' I just turned to my dad and said, 'Look, either have me and don't have biological grandkids, or don't have me and don't have biological grandkids', and that kind of shut them up a little bit. And we moved on from the subject.  
The reason I couldn't have kids is the fact that all my eggs are dead, basically, I don't have things like periods either. For the last five or six years I've been on hormone replacement therapy, I started on just straight oestrogen, that was to represent puberty so that would give me my growth spurt. Barely made five foot one after all that, and then recently I got swapped over from that to what is basically just the pill. I have three months on that and then a week off to represent a period. I also have osteoporosis which means I have weak bones and avascular necrosis, one of the main reasons that I'm having the operations. But going on my period now that treatment is going to help with my bones and their strength. 
I'm on a lot of medication, the majority of which is one form of painkiller or another: morphine, gabapentin, paracetamol, ibruprofen and then anaesthetic patches. So literally just taking the time out every two to four hours when I have to just stop and take my medication, puts a delay on everything and then dealing with having a high expression effect on me while studying in class day in and day out is difficult. Let alone the effects of the pain to deal with on top of that.  My dad says I'm away with the fairies a lot of the time! I will just completely just drift off into my own little world. So yeah, balancing that with the college work and trying to learn and everything isn't always the easiest." 
Being disabled: 
When Charlotte returned to school after her initial cancer treatment, then after major operations on her legs and starting college, she often had to deal with people asking questions or presuming she'd just had an accident hence needed crutches or a wheelchair. 
"I full on go straight in for the humour of it. I had to go back to the year below in college, meeting all these new people, it's quite obvious that some things are wrong with me because I usually have a wrist splint on or I've gotten both my crutches or I'm in a wheelchair. It's quite obvious, a lot of people just think I've sprained a wrist, or broken my foot or something quite simple. And then it's quite funny watching their face drop when you go, 'no, I had cancer. I'm disabled.' I go straight in for it with the humour to make it a lighter conversation, then they're more comfortable asking questions about it. I'd rather people ask me about it, than wonder in their own head. So I just go: "this is the situation; I was 11 years old. I was in hospital for four and a half months, I had my twelfth birthday there and had three, four rounds of chemo and a bone marrow transplant. This is what's left me disabled' And then I answer whatever questions they have. 
Anybody can ask me anything. If that day I don't feel like answering, I'll tell you, but you've not said anything wrong, don't worry. I always make that quite clear when the conversation comes up. One of the first times it happened was when I went back to my high school. There were girls in one of my classes, they were all really curious about it and they didn't know how to bring the subject up. So I just was like, I'm back and then just sort of approached the subject with them saying don't worry if my crutches fall and sort of making a joke because they are a pain, they always fall over every time I try put them down somewhere. And then that led them to asking how come you need the crutches now, and then the questions opened up from that. I'd prefer to have that open communication over it.  
I don't mind if people stare at me. I'm used to it. At this point I was bald in a wheelchair, I was chubby because of the steroids and I had a NG tube up my nose, I was getting stares, there was no avoiding it. So I'm fine with it. But when there is a little kid who you see next, he's bald in a wheelchair with a ng tube, they might be really conscious about it. I'd rather you ask me the question, because I can handle it. The etiquette around the big word cancer, everybody is scared to approach and talk around disabilities. So that next time when you're in a similar situation, you may know what some of the things are so you don't have the questions." 
Sick Children:  
Charlotte has been discharged from the Children's Hospital for her leukaemia but is acutely aware of the ongoing issues that impact the continual treatment she needs and why she now lives with life-altering late-effects. She's had major leg surgery and needs further operations to replace her knees, ankles and right wrist.  Charlotte believes more money needs to be invested in treatment for sick children.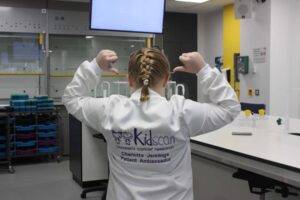 "Kids get forgotten about. We do, there is no money in ill kids, so children's cancers don't get any research put into them. I had adult treatment at 11 years old. Yes, the dosages may be slightly different, but chemotherapies and radiotherapies attack fast growing cells, that is their purpose because that's what a cancer is. But in children when you're developing and when you're growing, every single cell is a fast-growing cell. It's an adult medication in a kid's body, it doesn't work that well. It might get rid of the cancer, but the number of disabilities or illnesses that they're then left with and how much medication that they're then left on after, it's ridiculous. 
I need my knees and ankles replaced, I need my right wrist replaced, I need my left shin to have a metal plate on it because of the avascular necrosis. But because there is no money in children, I can't have these things replaced until I am basically in so much agony, I cannot walk at all. Because any kind of joint replacement is tailored for older people who have just worn out their limbs or have arthritis so they last 10 or 15 years. As harsh as it sounds, the joints usually outlive the person they're in. So for me, I was 15 when they realised that I would probably need everything replaced basically so I'd be barely 25/30 years old and then I would need to have them replaced again and possibly again. But every time you replace it, it gets harder and harder to do it because you've got calcification, you've got scar tissue, you've got all the other side effects of going under anaesthesia. I've had to have two extra operations to delay me having my knees replaced as much as possible, but I need my knees replaced because of the treatment I had. So that's the thing for organisations who work on kids and adults, let's focus on the kids as well please."  
Advice for others:  
"For the new newly diagnosed kids and families, I know it sounds like the end of the world and it feels like the end, like your life is just gone because it's the big C, its the cancer. It definitely feels like the end of the world when you get that news. It's not, just everything changes but it is nowhere near the end of the world.  
I'm somewhat happy, not happy, that's the wrong word, to say, I don't mind that it happened to me because the amount of people I met being on that ward, I have friends for life.  You can't go through something like that, and not make friends and become family. But I also don't think I'd be the person I am right now, if it wasn't for everything that happened. So I wish it didn't happen but I can see the good in it sort of thing.  
And if you're a girl, or if you have longer hair, cut it off before you start your chemo. It is a big thing, my hair was 30 inches, the plait I had to have cut off. It is a big thing that first time you wake up in the morning, and you see patches of hair on your pillow. It's so much easier to see two, three inches because you've got a cute little Pixie cut or a bob instead of long strands of hair."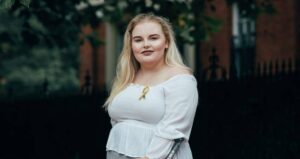 What next: 
"I'm studying at a Sixth Form College in Manchester doing health and social care, I'm in my third year because I had to have it extended due to operations and everything happening this past year. What next? University. I have applied for Edgeware and Salford Universities mainly and a course at Keele. Funnily enough its mainly children's nursing I've applied for! You'd think I'd had enough of hospitals and all that but no – I've applied for children's nursing and learning disabilities nursing and forms of social work surrounding them as well.  
Writing my personal statement was fun: they ask 'why do you want to do a children's nursing course?' I'm like, because I have experience?!!"
Happy 19th Birthday Charlotte!
Read more about Charlotte's work as a Kidscan patient ambassador here: 
Share this article