What a whopper of a night –  Friday 20th May, our ambassador Isla's mum Jill and family hosted a charity night, all in aid of Kidscan.
Monton Sports Club was packed out and guests were treated to an unforgettable night! The evening began with an incredible performance from Lord of the Dance star violinist Richard Sanderson Xerri, who certainly got the party started, going from table to table entertaining everyone – it was brilliant! Next came the fantastic Gatsby troupe who had the audience on their feet, dancing away!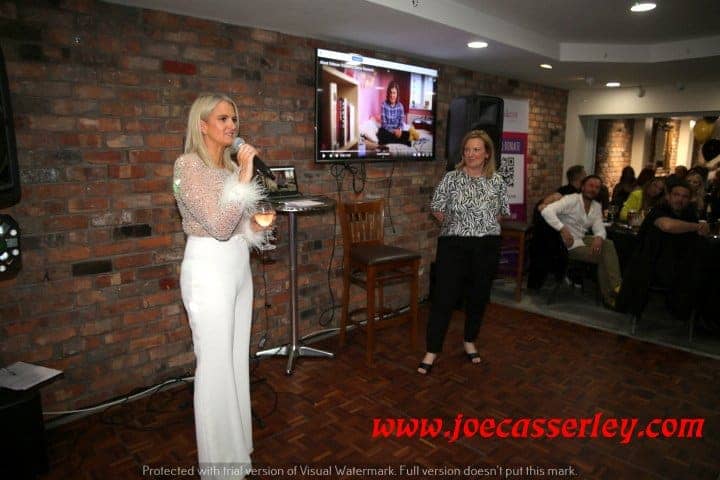 Once everyone had eaten it was time for the auction with fantastic prizes ranging from tickets for Jason Manford and Diane Ross tours, a Dyson hoover to Tyson Fury boxing gloves! There was lots of friendly competition amongst the guests and the bidding was incredible, along with raffle tickets, over £10,000 was raised! 
On top of this, actor Jamie Lomas offered a wonderful prize to the highest bidder: to join him on the set of Hollyoaks to watch scenes being filmed and meet the rest of the cast. This alone raised £1500!  
Everyone knew why they were there and that Kidscan was the chosen charity for Jill and her family due to Isla being diagnosed with cancer three years ago. Over the last few years, Jill and her family have fundraised in all sorts of ways: from fashion shows, football games, quiz nights and collections. During lockdown, Isla even ran around her local park 26 times, changing her fancy dress costumes on the way – impressive!
This was a truly wonderful night and the team at Kidscan are totally overwhelmed by the incredible generosity from everyone at the event. The final total raised = £14,794. Wow! Our thanks also go to Jill, Ken and their wonderful family who are constant supporters of ours, we are so grateful to have them as members of our Kidscan family.
Thank you and well done on a brilliant night – same again next year??! 
Share this article