The Oil and Colour Chemists' Association (OCCA) held a zoom 'Evening at the Races' in aid of Kidscan, raising over £5100!

As September was Childhood Cancer Awareness Month, friends and colleagues were invited to help OCCA, to help us at Kidscan, to increase understanding of these issues and raise some much-needed funds to continue our work.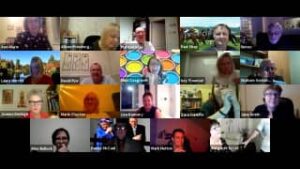 Guests were invited to sponsor and name one of the 8 races, to own one of the 64 horses or to just put a bet on the gee-gees.

Kidscan's Scientific Director Prof. David Pye and Dr Joanna Denbigh, Lecturer in Pharmacology at the University of Salford also joined proceedings to talk about the work being done by the Kidscan ambassadors, staff and students at Salford University.
So, we'd like to say a huge Kidscan 'thank you!' to all our supporters at OCCA for such a fantastic evening and wonderful donation!
Share this article