Kidscan caught up with Matty's mum Alison, earlier this month, to find out how Matty is doing. 
Matty with sister Molly
"Matty had a scan today (10th Dec) and he's fine, currently revising for his mock Maths GCSE. Normally he gets really tired after his scans but he's not too bad today. As he was fine to revise you've caught Molly and I out at Fosse Park! Xmas shopping. 
How is Matty feeling atm? – quite well. He doesn't do the stress that we do as he has no short-term memory. This morning he got up and dressed as normal, I said put your shoes on and he asked 'where are we going?' Then on our way back, we called into Subway, Matty asked 'where have we been?' So, I said to him, just subway. Bless him but he doesn't worry about it. We do talk about the future, and he says he just takes each day as it comes 
We're obviously worried about the result of his scan. We've had four dreadful, terrible Christmasses: 2016 he was diagnosed, 2017 hospitalised with neutropenic sepsis, 2018 Matty relapsed… but he's not worried, bless him.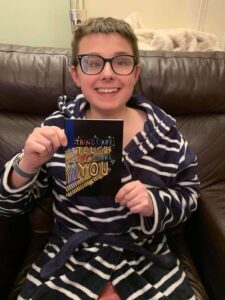 Letters Through Lockdown
Matty is still getting lots of letters through, it just picks him up, does that make sense? And of course, if anyone sends a gift, a thank you letter has to go out. That's the way I've brought him up! I say to him you might be a boy with cancer but you can't have nice things coming for you and not say thank you. Thing is he suffers from chronic fatigue, so he's not got a lot of energy, I'm a wicked mother! 
But to be fair, the last two weeks he's sent out Moonpig postcards he does online as he's got his exams. But the minute those exams are over, he'll be writing himself again! 
[Recently, BBC Breakfast TV presenters Charlie Stayt and Naga Munchetty sent Matty a video-letter] We love them! Naga especially, we chat to her every morning, watching on the TV. That message, really, well Matty, he cried! They're just part of our everyday lives so it was really touching.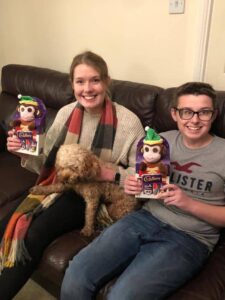 I'm still working [Alison is a Health Visitor working with families] but I'm down to 2 days per week because Matty, well he has no memory, fatigue so he's a full time job. One of those days I work, is a day Molly isn't at university, and my Dad comes over the other day.  
Where we live has been as-good-as in constant lockdown. I'd say its good when Matty gets to go to school as he still sees his friends. Normally when he's off school I get him out in the fresh air and we go have a coffee so he's not just seeing these four walls. At the moment he's not been at school for three weeks as he's taking his mock exams at home, so we're watching his mental health closely. But he's coping at the minute.  
Mental health is very important. You'd give anything to keep a child alive but when they and you are living with long term side effects of their treatment… he now has a very different life to the one he used to lead, he does have down days.  
His school is being very good, its taken a few years to get here. His processing speed has been shown to be a lot slower, he's given extra time for exams, he's supposed to get handouts in lessons but he's always having to chase that. Next week we have a big MDT (multi disciplinary team) meeting to discuss the future. We'll have people from the hospital, his psychologist and the school together, it's the first one we've had and its needed. School have given him 50% extra time for his exams, but that doesn't help because with his memory he can't ever remember it.  
For now, though it'll just be waiting to see what his scan results show and that will determine what path we take. Whether we get three months to make more memories or resume treatment or… well that doesn't bare thinking about. "
Then yesterday, 17th December, Matty's mum posted this update on his scan results: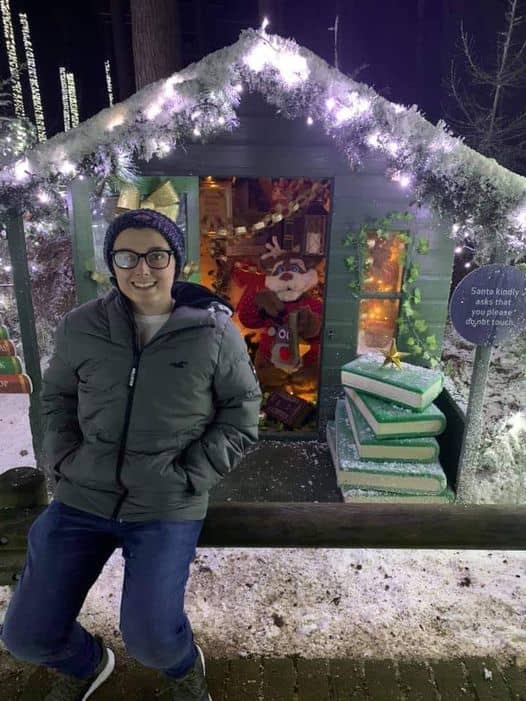 "Not good news today for our super hero. His treatment in London sadly has failed and the tumours are growing again…. and he has an additional one joined the Christmas party. We don't want sympathy, just more ideas on how we can make memories during covid please!  
Please excuse us if we hibernate for a while…. we are feeling a bit raw at the minute"
All of us at Kidscan are sending Matty and his family our love, you're in our thoughts. xxx
Share this article