Matty Hatton fell ill when he was diagnosed with Medulloblastoma on 21st December 2016. Matty's mum Alison tells us about their journey so far:
In December 2016 at the age of 12 Matty developed headaches, with occasional sickness. Being a nurse, my children have to be really poorly to have a day off sick!! (mean mummy). Matty had just started secondary school and I just put it down to Migraines / stress as his older sister suffers from severe migraines and had similar symptoms. After getting fed up of school ringing to say he had been sick and then on picking him up and him being fine and playing on his PlayStation for the rest of the day I took him to the GP so that I could have some ammunition to say to school that he was fine!! How wrong was I!!
On the morning I was due to take him to the GP he also complained of double vision – seeing 2 lampposts outside. A totally new symptom. The GP was really good and said she would refer him for a CT scan (she also gave me the 2 week wait for suspecting cancer letter which I discarded as though this was ridiculous and didn't even tell him).
Fast forward 2 weeks… CT scan in Leicester… and Matty was sent straight over to Queens Medical Centre (QMC) in Nottingham with a brain tumour. Matty had surgery a week later (21st December) and removal of the tumour which was 10cm by 10cm. This was found to be a Medulloblastoma.
Matty had 6 weeks of radiotherapy and 14 months of chemotherapy. All of which made him very sick and we spent most of our time either in QMC or going backwards and forwards to it!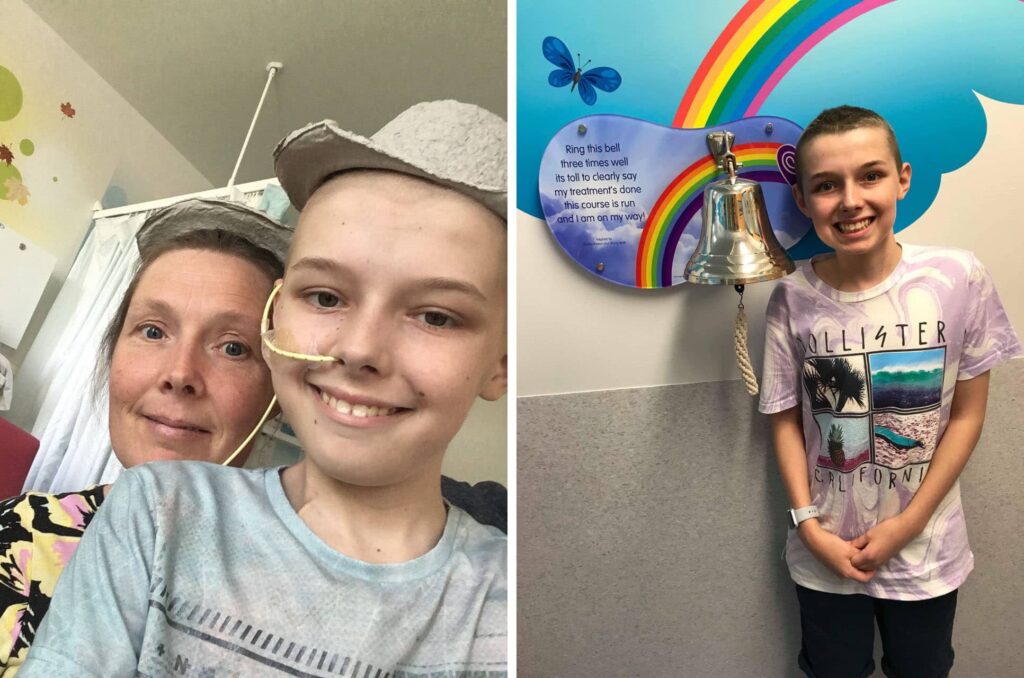 Matty completed treatment and life got back to a kind of 'new normal', he still had side effects from his treatment and continued to vomit but managed to get back to school and have some fun again.
6 months later and with no symptoms Matty was found to have relapsed on routine 3 monthly scan. He had 3 new tumours growing in different places in his brain (Happy Christmas again!!). He was referred for Gamma Knife surgery but declined because he had 3 tumours and they will only accept 2 tumours or less. He was therefore given the option of doing nothing or having palliative intrathecal chemotherapy injected into a reservoir in his head. He chose this option and had the reservoir placed in January and chemotherapy commenced a week later. This was a daily treatment (which wasn't easy as the hospital that offers this is 45 mins away). The treatment was daily…2 weeks on / 1 week off. Matty responded really well to this treatment and after 6 months his tumours could no longer be seen so treatment was discontinued. This treatment affected Matty's short term memory (its like living with a child with Alzheimer's), and gave him severe chronic fatigue, but we were able to start living life again and trying to make memories.
Unfortunately half way through lockdown Matty's routine scan showed that 2 new tumours had grown (1 in the same place, 1 somewhere new in his brain), yet again he had no symptoms and came as a bolt from the blue, especially as unlike the last 3 years he had gained quite a lot of weight and was looking really healthy. Matty initially started the intrathecal chemo again daily, whilst a decision was made regarding gamma knife treatment. He was accepted for this this time and went to UCHL 2 weeks ago for the treatment. He now has a 6 week break before the next scan to then see what the next step is.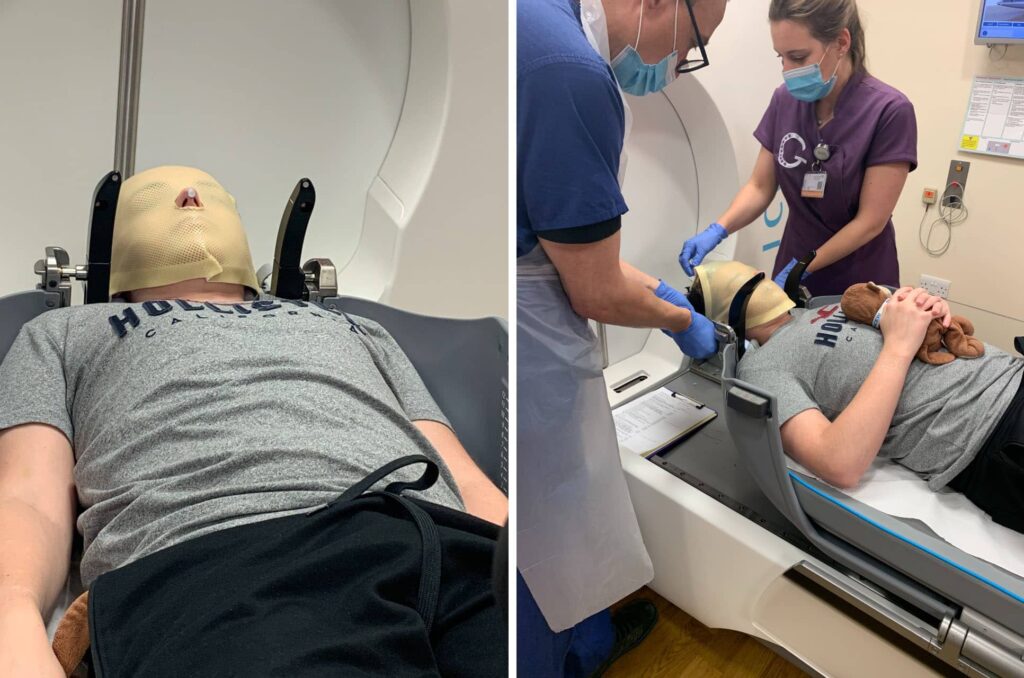 Matty's diagnosis had a huge impact on us as a family, it feels like we always have a constant weight on our shoulders waiting for the next time it will come back and asking whether the treatment will work again. On initial diagnosis Molly was doing her A'levels and having to fend for herself, doing the cooking, laundry and all the home jobs whilst Steve worked and I was in hospital with Matty. Steve didn't get paid if he didn't go to work so unfortunately because the mortgage and bills had to still be paid there was no option but for him to go to work and make the 45 min drive every evening to the hospital. Molly went off to Uni (making sure she was only an hour a way from home) and gave up the uni lifestyle to come home every weekend to spend family time with us all, supporting us and Matty. Financially the last 3.5 years have had a huge impact on the family as I have had to reduce my working days to 2 days per week to accommodate Matty's needs however we have always been a close family and in some respects this has brought us even closer.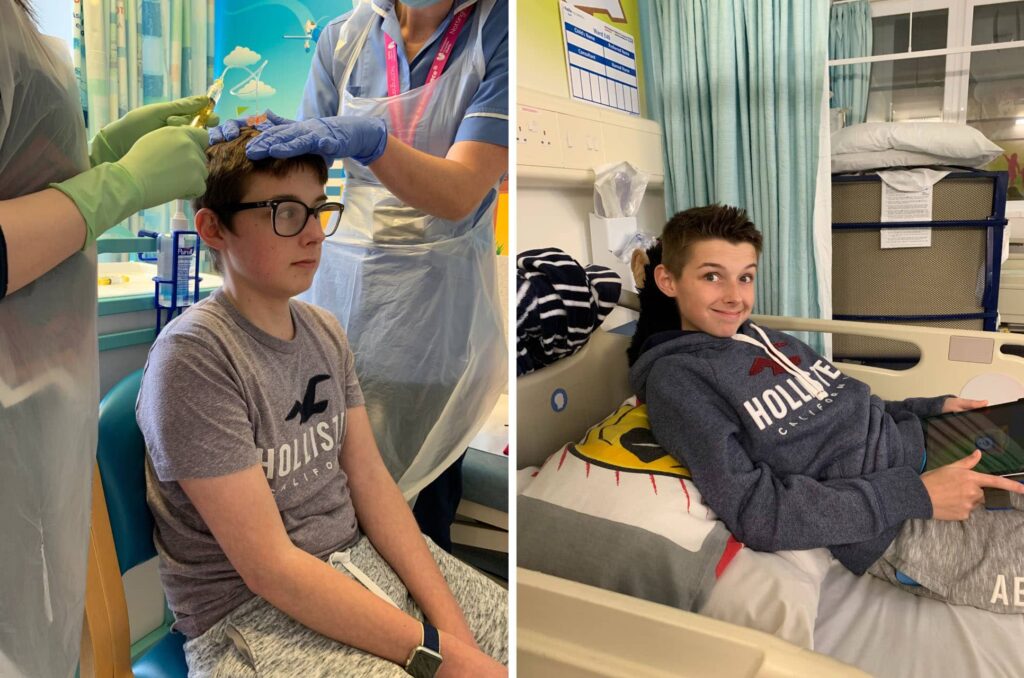 Lockdown hit Matty hard, initially it was just difficult as he was shielding and couldn't see his friends, go to school etc. Relapsing during lockdown was awful for him, he no longer had the face to face support network of people that he would usually discuss his concerns with. We were told that the local Gamma knife treatment centre was closed to children due to Covid risks so we had to travel to London. Usually when new treatments are started Steve and I both go to support Matty (and each other) but Covid has meant that only one person can attend the hospital with Matty so I have had to do it all on my own with Matty which has been difficult at times. Mentally it has been a really difficult time for him, we have been unable to make memories that we had hoped to make and Matty's life has consisted of schoolwork (small amounts as that is all he can manage) and sleep!
To try and lift Matty spirits during lockdown, hIs aunty Jo Higgins wrote him a letter which really helped. So she decided to ask people to write to Matty as well and write they did! Matty had an overwhelming response with hundreds of letters from across the world. There have even been messages from Leicester City players, and even Ant & Dec!
"Letters from the lockdown has been massive for Matty, it has given us something to look forward to and have a laugh about. People have given us great new ideas of memories that we can make so we are looking forward to the easing of lockdown to get back out there and have fun again. Matty has felt so loved and supported by so many people that it has really helped to boost his morale"
Share this article