Theo was diagnosed on September 24th 2018.
We had been to his nanas in Newcastle in the 6 weeks holiday and Theo had fallen and hurt his leg on the trampoline. I took him the hospital and they said he had just twisted it. We went on  holiday a week later and he struggled to walk – he was only 3years old but anyone who knows Theo knows he doesn't keep still but we had to take a pram. He slept lots and in the night his sweats were so bad – but we put it down to the heat over there. When we got back from holiday I took him straight the hospital and was told he was being a typical 3 year old and just wanted to be carried.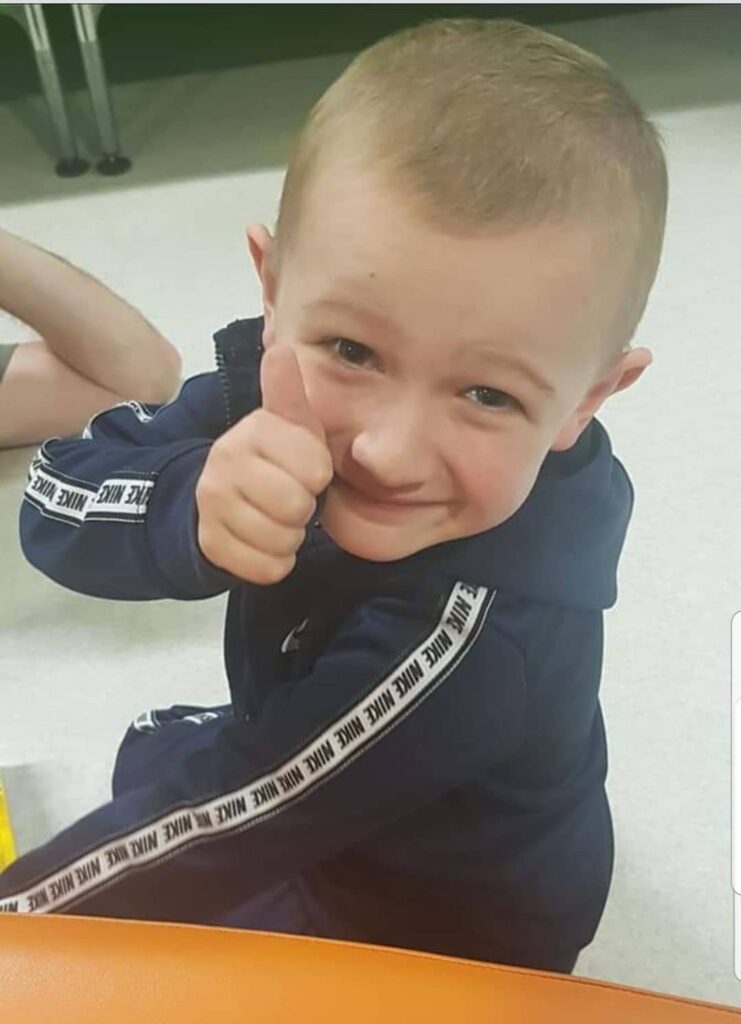 Theo started nursery full-time as I'd gone back to work. Theo was was crying all the time – so much so he started with nose bleeds when he got home and would then sleep for hours – but again we just thought it was because of the big change in his life.
The teacher on the 24th pulled my husband in and said she thought he was sick. Theo had fallen the night before on our wooden floor and we hadn't noticed anything untill we went to get him ready for his bath when we noticed his knees where black ,like nothing I'd seen before and on his back he had a rash. At that point I really thought he had meningitis and when we rolled a glass over the rash – it didn't go.
So we got him dressed and took him to a different hospital as I felt the first one just didn't listen. It made me feel like I was wasting their time.
When we got to Wigan Hospital they took us straight through. The nurse questioned all the bruises which we hadn't noticed much before. We started to worry because we thought she was judging us. Next she asked about his limp and I explained we had took him twice and was told nothing was wrong.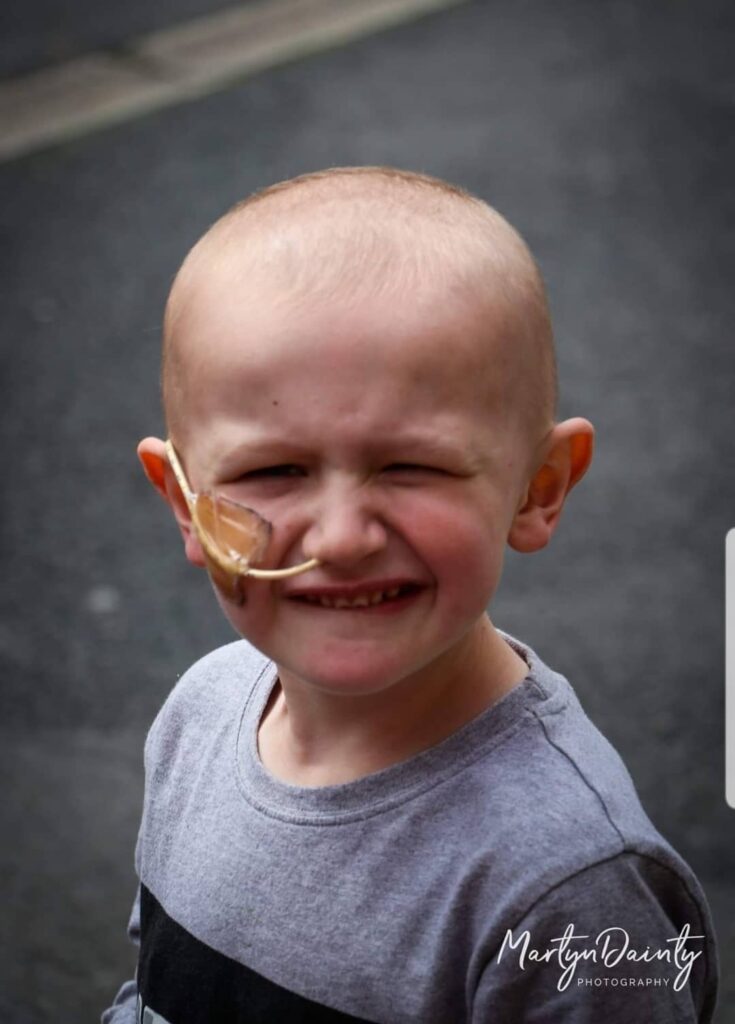 She didn't say much and sent us to a private room on the children's ward. It was early hours at this point so I sent my husband home to see our other boys who where being looked after by my mum.
I settled Theo down and got into bed myself but not long after we was woke by a male nurse and asked to get up because the doctor wanted to speak with me. She entered the room and all I really remember was her say "can you get your things together I've dialled 999 the ambulance is on it's way your going to Manchester royal children's hospital to the oncologist department they specialize in bloods' I laughed because I thought she was joking – we was in hospital so why would we need an ambulance? And "Oncologist Department" meant nothing to me so it didn't register what was going on.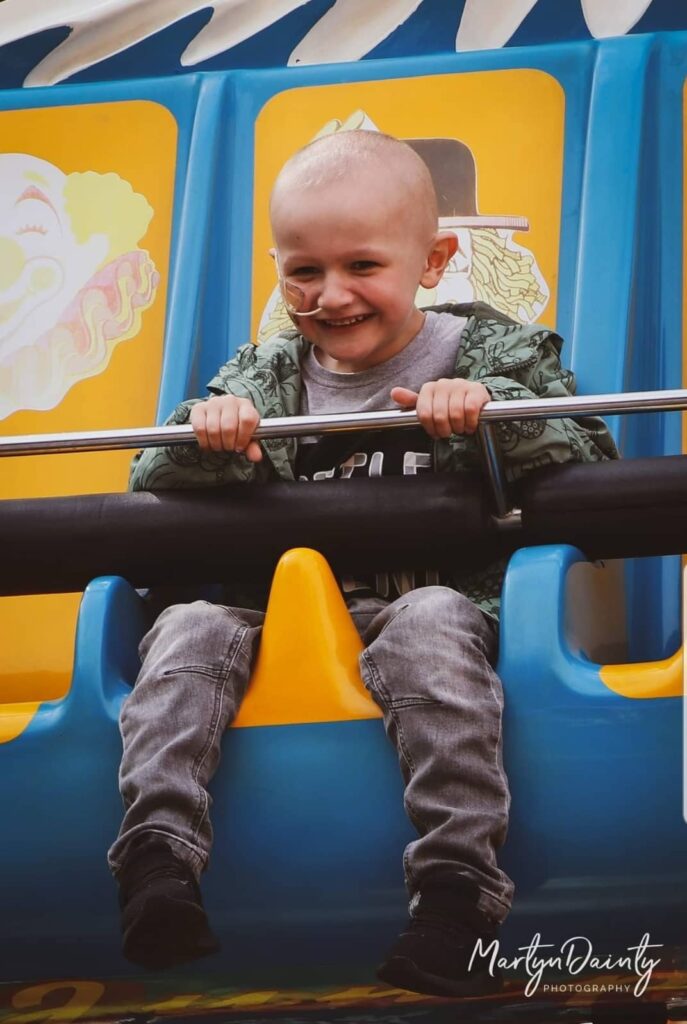 I asked to use the phone to ring my husband and he met us at the hospital. The male nurse Keiran had come with us in the ambulance. I asked him if it was serious an he said "he's very poorly but will be in the best hands. Don't be shocked when you wake in the morning"
We arrived at the hospital at around 5am – I didn't sleep and instead I just sat and cried because Theo looked so small and helpless. When we opened our curtains there was one other child in the room – he had no hair – so at that point we knew it was serious. By 9.30 we had met our consultant Rob Wynn to be told Theo had leukaemia but they wasn't sure what type until he did a LP to confirm. It turned out to be ALL (acute lymphoblastic leukaemia).
It's been a hard 12 months – Theo has been allergic to some chemo and antibiotics so it has taken us a lot longer than some to reach maintenance – but we are finally here. But the journey isn't quite over, we have another 2 years of chemo left to do which I manage at home everyday. Theo doesn't know he has cancer because at 4 he wouldn't really understand. Instead he thinks he has naughty dancing monkeys that make him poorly and the medicine helps to fight them and make them go away.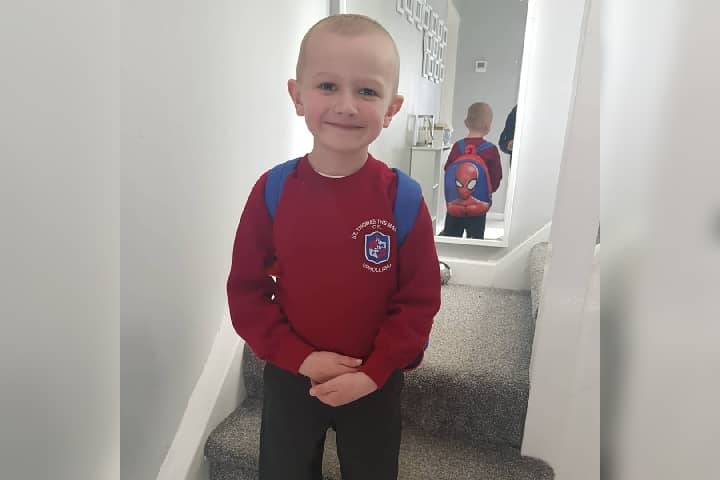 But cancer doesn't stop him from living life – he still has his Hickman line in and goes to school as much as he can. Everyone knows Theo on our ward as the one who never stops always running around even when he was strapped to chemo he's my hero.
Share this article