Two of the Kidscan Elves were out delivering gifts today, courtesy of Co-op Salford. 
Ellie and her brother
The Co-op Local Community Fund chose Kidscan as one of their Salford charities to support, and our local stores kindly donated some fab presents that we've delivered to some of our younger ambassadors. 
Isla with her Christmas tree
The Co-op Local Community Fund has decided on three worthy causes in each community. Then Co-op Members can select which to support, and as they shop, donations go to that charity. 
Emilie looking cosy
Joining the Co-op is free and easy to do, and once you've signed up you can select Kidscan as your chosen charity to receive funds, up to October 2021: https://membership.coop.co.uk/causes/49777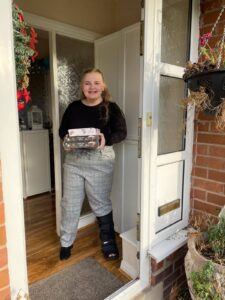 Emma and Charlotte with beautiful smiles for the Kidscan Elves
The money we get from this fund will be spent on a project that will bring together a unique group of people who are either currently experiencing or have experienced in the past the same life-changing situation. We will offer them a nurturing and positive support network to ensure those who are struggling with physical side effects, mental health issues, bereavement and relationship issues will have a dedicated group to turn to. 
And in the meantime, this support from the Co-op is helping us spread a little Christmas cheer to our wonderful ambassadors. Merry Christmas! 
Share this article