'A visit from Coronation St star was right up our Street'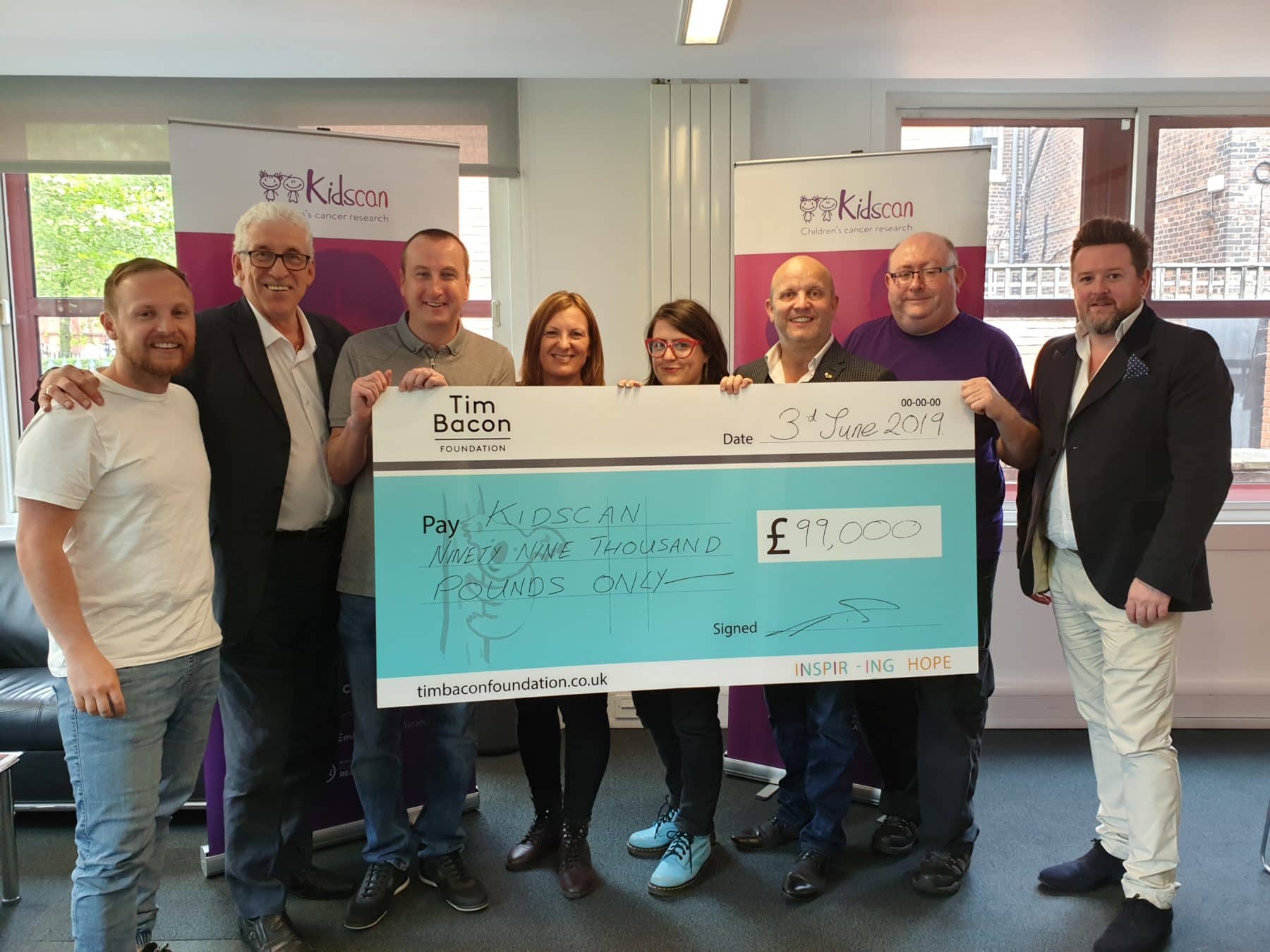 Photo from left to right: Jason Simat (Marketing Executive Kidscan), Bob Carter (Chief Executive Kidscan), Andy Whyment (Kirk in Coronation Street), Allison England (Fundraiser Officer Kidscan), Siobhan Connolly-Curley (Administrative Assistant Kidscan) Dave Mansbridge (Tim Bacon Foundation), Ian Johnson (Fundraiser Kidscan), Martin Keelagher (Chair Kidscan).
Tim Bacon Foundation were extremely excited to be able to hand over a cheque to Kidscan for £99,000 in June.
The presentation of the cheque by Dave Mansbridge was made at the Kidscan offices based at Salford University and was received on behalf of Kidscan by Andy Whyment from Coronation Street who made time in between filming to support the charity.
They have raised an incredible amount, enough to match fund three PhDs with Kidscan Children's Cancer Research.
It was an amazing year of fundraising and a massive thank you goes out to all involved who have undertaken personal challenges, events, £1 on the bill and other initiatives in order to be able to present this cheque to Kidscan.
Kidscan Chief Executive Bob Carter said:
'The incredible sincere support in so many areas that the Tim Bacon Foundation has given to Kidscan is a shining example of commerce and philanthropy from one organisation coming together to assist individuals and communities in such a positive life changing way.
Their outstanding support will help us to help children of this generation and future generations survive and thrive.
We are also very fortunate that Andy Whyment who is a Salford 'lad' could take the time out of his busy filming schedules to be with us on such a memorable occasion.
His support is a great inspiration to others and helps us in so many ways to achieve our goals where more children can leas a healthier life ".
Share this article